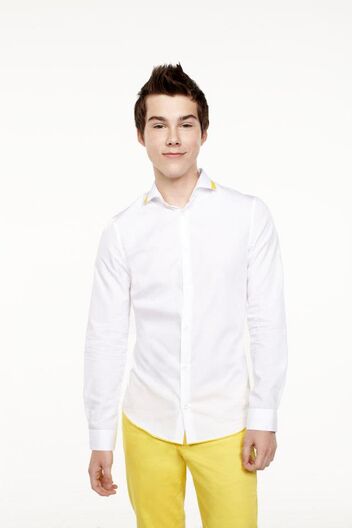 Jeremy Shada (born January 21, 1997) is an actor, voice actor,  and singer, and best known as the voice of Finn the Human in the animated series, Adventure Time and a main cast member of Incredible Crew, which both shows air on Cartoon Network. Jeremy is known for being in the skit, Doug High and characters such as Minnesota Rhodes, Apple Chef, Captain Jake Blue Jay, Klaus, AJ Boy Bander, Donnie Worst, Davey, and Petey Johnson. He also is known for performing the song "Running Errands With My Mom".
Trivia
This is Shada's second live-action show after being Young Charlie Pace on LOST.
He voices Alex in the show, 3: A Town of Mysteries.
He also likes Glee as he stated in an interview.
He voiced Jean Francois in the 2004 film Team America: World Police, directed by Trey Parker who was a co-creator of South Park. 
He voiced Pug in the 2012 film ParaNorman.
He voiced Porridge in an episode of Chowder, which is a series on Cartoon Network.
He voiced a young version of Robin in Batman: The Brave and the Bold, which is coincidentally also on Cartoon Network. 
He has made several appearances on shows including Lost, Nip/Tuck, and ER. 
He voiced a young version of Paxton Fettel in FEAR 3.
He voices Finn the Human in the show Adventure Time  that also airs on Cartoon Network.
He is an aquarius.