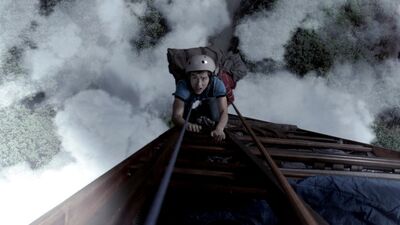 Bunk Bed Mountain 
is the 11th episode of 
Incredible Crew
Sketches
"Eli's Electric Depot" — Eli promotes an electronics store where everything is priced under a dollar, and despises high prices.
"Putting Shaving Cream on Stuff" — A music video where Jeremy, Tristan and Chanelle put shaving cream on various items.
"Things To Do When You're Super Bored" — A sketch that depicts multiple things to do out of boredom.
"Bunk Bed Mountain" — Tommy and Ben (Jeremy and Brandon) travel to the top of a mountain made out of stacked bunk beds.
"Birthday Buffet" — A commercial for a restaurant in which toys are hidden inside the food.
"Laser High Five" — A sketch that shows three kinds of high fives, the 'laser high-five', the 'beard exchange high-five', and the 'delicious cotton candy high-five'.
"Loudest Ringtone Ever" — A hidden camera prank skit depicts Tristan distracting restaurant patrons with loud ringtones from his phone in ""Loudest Ringtone Ever".
"Wes and Fred Johnson" — A teenager named Wes Johnson (Jeremy) who wishes to be a superhero swims in the pool of nuclear waste. To his surprise, he gains another head named Fred Johnson.
"Resturant Artist Kid" — Tristan creates a masterpiece in a restaurant from crayons to abstract sculpture art praised by an art critic.
"Nighty Lighty" — A commercial where Shauna sleeps with a night light that beams a disturbing laser show.
"Punch Bowl Jump Rope" — Jeremy and Tristan hold a jump rope together with Shameik jumping on the rope while holding a punch bowl.
"Cafeteria Lounge Singer" — "Smooth" Johnny Primrose (Tristan) holds a show in the cafeteria during lunch.
"Young Lady Gaga" — A younger version of Stefani Germanotta (Chanelle) dresses up in Lady Gaga-esque clothes at school.
Gallery